Schedule An Appointment Now!
Reliable | Trustworthy | Hard Working
Call us today for your Residential and Commercial Cooling & Heating, and Commercial Refrigeration needs. We keep Atlanta running!

*Weekends and after hours for an additional charge
Check Out Our Reviews on Google
Over 150 ⭐️⭐️⭐️⭐️⭐️ Star Ratings
This is the HVAC company that ATL has needed for years. Responsive. Professional. Honest. The Air Company will totally shoot straight--not overcharge you when your AC breaks in the middle of the summer and you're desperate. Don't even consider using any other company for your heating or AC needs.
S Sugarman
Homeowner
I can't say enough good things about my experience with The Air Company of Georgia. It is HOT and one of our systems started to slow down. They arrived ON TIME and they did a thorough job with not only that system, but they serviced our other three systems. I highly recommend them for all of your HVAC needs. Super friendly and very efficient for a great value.
T Roberts
Homeowner
The team at The Air Company provided us with a new HVAC system at a competitive price, with quality equipment and the work was completed in just one day. They are a highly professional and customer-focused organization, and we recommend them without reservation.
S Sadler
Homeowner
Super great company. Very affordable, responsive, thorough, and fantastic to work with- highly recommend. We love our 3 units and really looking forward to staying cool this hot summer.
T Ryman
Homeowner
Turned on my air conditioner and found I had no cool air coming out. The Air Company of GA came out fast and got me working again. Technician was fantastic. Would recommend to my friends and family.

G Johnson
Homeowner
We had a great experience with Air Co. They were extremely professional and knowledgeable, and worked hard to find us the best deal for our situation. We are very happy to be cool again!!

R McLaughlin
Homeowner
Excellent service from Dana! She was prompt in returning my call and assigning a great Tech to assist. The following day, she assisted w/my warranty questions and made inquiries, which I greatly appreciated. Customer focused at every interaction! Very friendly and professional Technician- Service call as air no longer cooling—Thank you!

W Boyd
Homeowner
I could not have been happier with my service! Timely, responsive, and professional are just some of the positive things I could say about this company and my service. I would recommend The Air Company of Georgia to anyone and plan to use them for all my heating and air needs going forward. Five stars!

S Jones
Homeowner
WE'RE IN GREAT HANDS WITH AIR COMPANY OF GEORGIA! Chris and his entire team are truly customer-driven. Had another excellent experience today with one of their technicians (Freddie). Prompt and professional. Highly recommend!

D Zabkar
Homeowner
Every aspect of our interaction with Air Company of GA was top notch. I had been with the same HVAC company for 20 years but I did get additional quotes for a new HVAC system. Chris, the owner, came out and really listened to our needs and patiently answered all our question. I had some additional questions over the phone that Chris handled in a timely, patient and professional manner. His quote was the best price, the reviews online were all 5's and so we made the switch.
C Belton
Homeowner
Freddy the repair tech, arrived on time and provided heating maintenance service for my two systems. He was very professional and took the time to answer all of my questions. His extensive knowledge base and friendly manner were greatly appreciated. I would definitely recommend The Air Company of GA to anyone requiring HVAC services.

M Golden
Homeowner
Shaeem was very thorough, courteous, professional, and nice. I can't say enough nice things about him. I called the night before and the owner, Chris, had his tech out the very next day. Wonderful experience all around!

C Richmond
Homeowner
This was my first time using The Air Company of Georgia, I called last night and really wasn't expecting someone to answer! We were having problem with one of our units. She said she could have someone out tomorrow! He was great! Everything is fine.

S Allen
Homeowner
Been using The Air Company for a couple years to do my quarterly maintenance at business. They show up when they say they will, they get the job done, and if anything needs to be fixed, they do it quickly and on budget. Forget service windows, they give you an exact time they are going to show up. I ca'nt recommend this company enough!

B Hampton
Homeowner
They scheduled an appointment immediately, texted me a confirmation as well as when the tech was on his way. They found the issue and took care of the problem. Easiest process I've experienced. The tech was friendly, informative and helpful. I highly recommend this company.

M Cutler
Homeowner
Very responsive after hours and the technician Freddy was friendly, professional, and efficient! I'll definitely use them in the future.

M Gaynes
Homeowner
This is my very first Google Review--I just had to let everyone know what a gem of a company this is. I ran into some issues with my A/C unit that were difficult for the tech to fix on the first visit (not their fault). The Air Company sent techs out multiple times, took charge of the job, and provided outstanding customer service along the way. The techs that came to my home were all professional, polite, and knowledgeable. I have honestly not dealt with a better home service company.

L Logan
Homeowner
Our Promise To You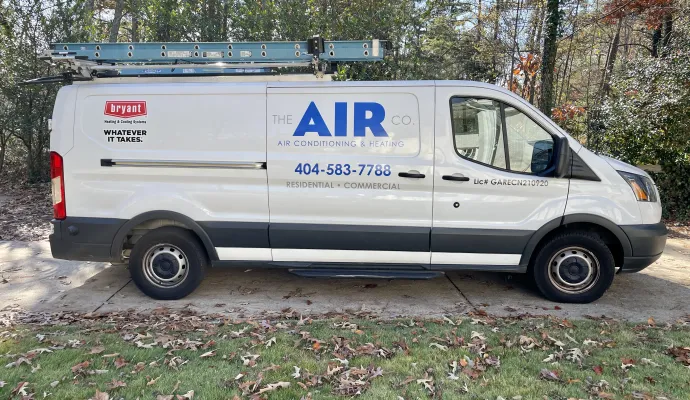 We will not stop until you are completely satisfied.
We are experienced professionals here to take care of little issues or major problems. From Heating & A/C Repairs, Service, Maintenance, or Installations, we've got you covered.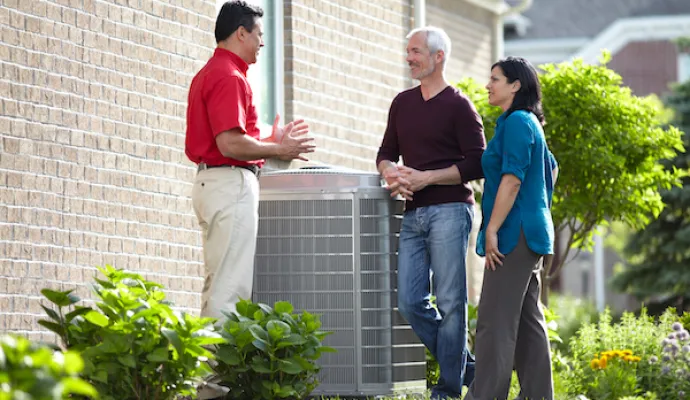 We are Family Owned and Operated
You Rely on Us, We Rely on You
Here's How It Works
Call, Text, or Book Online!
We make it easy! Whether you need a repair, regular maintenance, or a system replacement, we've got you covered! Don't stress over a surprise breakdown, we're here for you any time day or night with 24/7 emergency service!
We'll Get You Fixed Fast.
Our expert techs will diagnose the issue and explain the best solutions for your system. We'll provide a free, straightforward estimate before we begin. Then, with your approval, we'll get to work!

100% Satisfaction Guaranteed
We will follow-up with you within 24 hours to make sure all your needs have been met. If not, let us know! We'll do everything we can to make it right.

Areas We Service
Proudly Serving the Atlanta area:
We offer Air Conditioning, Heating and Commercial Refrigeration services to the following areas in Atlanta:

Fulton County, Sandy Springs, Cobb, Alpharetta, Buckhead, Brookhaven, Chastain Park, Vinings, Smyrna, Ansley Park, Collier Hills, Dunwoody, Roswell, Marietta, Johns Creek, and everything in between.
We service both Residential and Commercial clients!
Not Sure What You Need? No Problem!
AIR Conditioning can be intimidating. We're here to help you through it.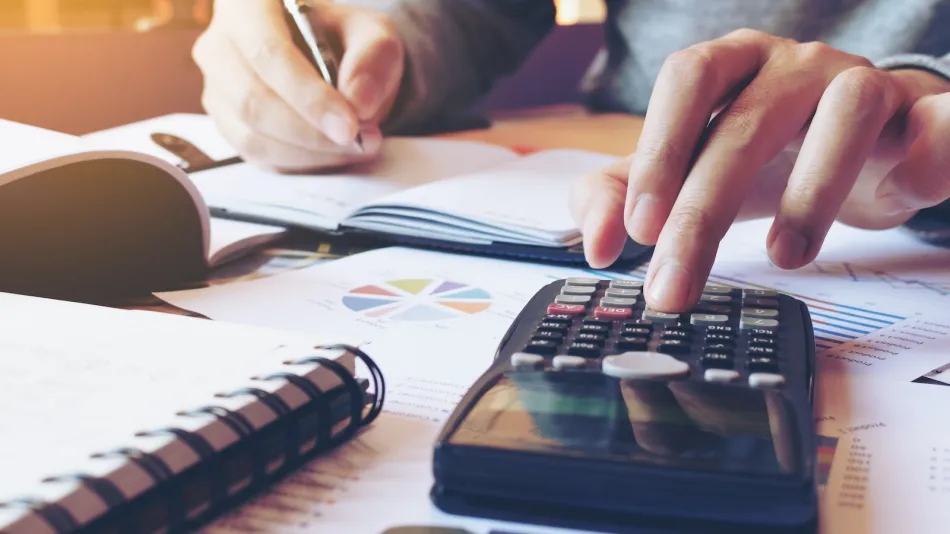 Financing made simple with Wisetack
Fast and Easy - quick application, takes just a minute to see your optionts
No hidden fees - no late fees, prepayment fees, or origination fees
No credit impact - checking eligibility does not impact your credit score
Example: a $2,000 purchase could cost $90.40 a month for 24 months, based on a 7.9% APR. All loans are subject to credit approval. Your terms may vary. Wisetack loans are issued by Hatch Bank. See wisetack.com/faq
Check Out Our Work!
Keeping Atlanta Comfortable Year Round
Out With The Old, In With The New
Our experienced team make replacing old air systems a breeze!
Another Day on Top of Buckhead!
Check out The AIR Company of GA as they install a rooftop unit in the heart of Buckhead.
Orbitz Dance Studio - Sandy Springs GA
Commercial HVAC Rooftop Installation
Commercial HVAC Rooftop Installation - 20 Ton HVAC unit crane lifted to roof
HVAC Commercial Rooftop Installation
Sandy Springs, GA
HVAC 12.5 Ton Helicopter Lift
The Air Company of GA Helicopter Lift
Changed out a 12.5 Ton HVAC unit on the top of The Mezzo building in buckhead. Helicopter lift removed old HVAC system and delivered a new HVAC system to the top of the roof.
Helicopter Lift - HVAC