Commercial AC Service & Repairs
We Keep Your Company Cool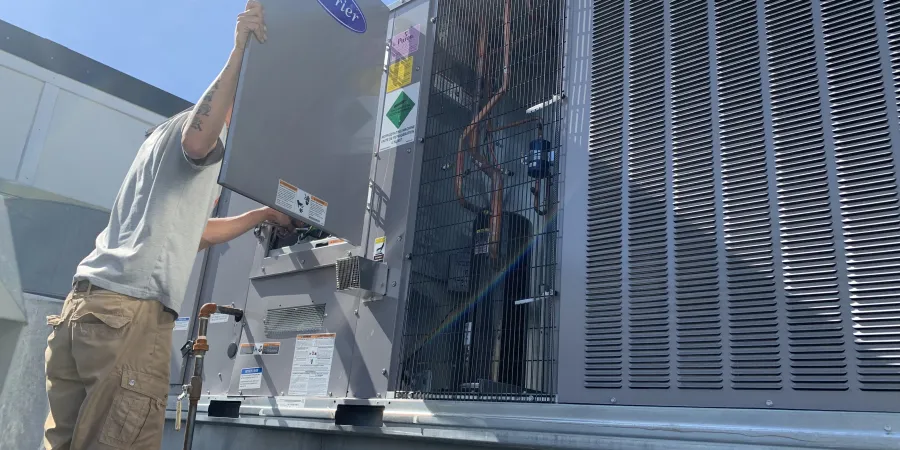 Commercial AC Repairs
We Keep Your Business Productive
Commercial HVAC systems are large and complex. We expect a lot out of their performance and we want to make sure you and your employees are happy with the working temperatures.

Because of the complexity of commercial HVAC repairs, the level of expertise must be higher than average. Our outstanding technicians have been expertly servicing commercial equipment in Atlanta GA for 15+ years.

Call us today to get your system working to keep your employees and customers cool.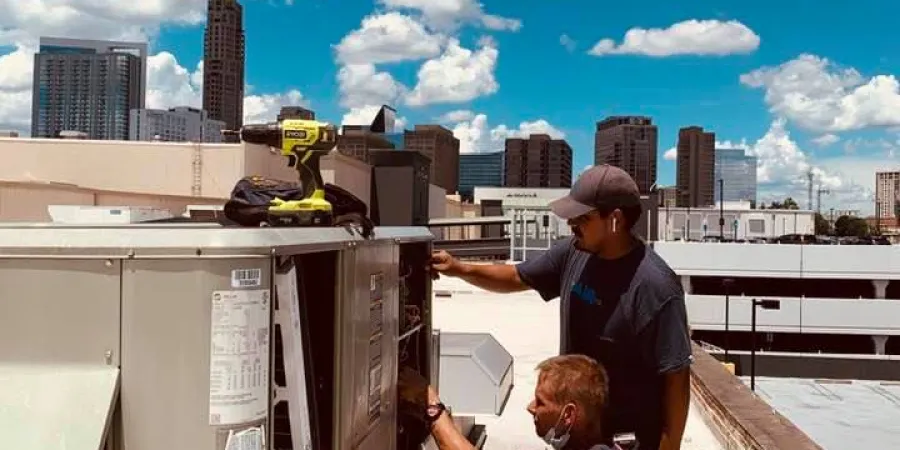 Commercial AC Service Plan
No business or commercial facility can afford a long interruption due to a broken air conditioner or heater.
These temperature-controlled systems are vital for the comfort, safety, and productivity of your employees, tenants, or guests. At The AIR Company of Georgia, we
can prevent HVAC breakdowns thanks to our comprehensive commercial HVAC maintenance plans. Specifically designed to cater to the unique needs of local businesses and industrial facilities in the greater Atlanta area, our commercial maintenance services can help ensure you will always have a well-functioning HVAC system when you need it. Our technicians are professionally trained and experienced to work on various types of commercial air conditioners and heaters, so no matter what brand or model yours is, we can take care of it.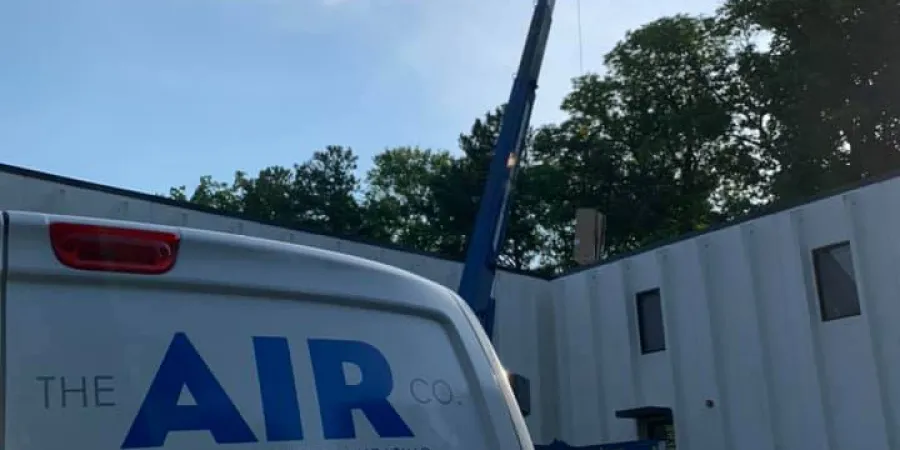 Commercial AC Installations
Commercial HVAC is not
one-size-fits-all
, and ensuring that your commercial air conditioning and heating is properly sized and custom designed for your individual project is important. The AIR Company of Georgia's commercial HVAC team has the tools and experience to handle any-sized job. You can trust The AIR Company of Georgia - we will get the job done right…the
first
time.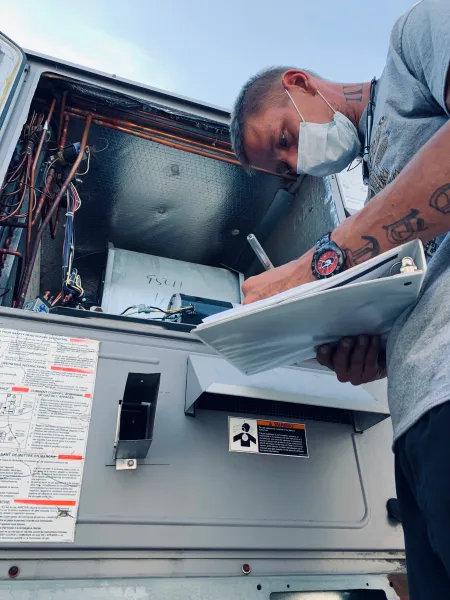 The Benefits of Regular HVAC Maintenance
Mechanical equipment, from your car to your heater and air conditioner, requires maintenance to keep it in tip-top shape. When a professional technician regularly inspects your HVAC, you get to uncover and address small issues early or before they become major repairs. However, this is not the only benefit you can expect from system maintenance.
Below are some other reasons you should get regular HVAC maintenance:
Improves system efficiency
Lowers your energy consumption
Keeps your indoor air quality clean and healthy
Extends the lifespan of your heater and AC
Gives you peace of mind knowing for certain your HVAC is in great condition
At The AIR Company of Georgia, we know every place of business is different, which is why we offer customizable, worry-free HVAC maintenance plans for our commercial clients. Signing up for any of our plans guarantees you two high-performance tune-ups per year, plus other exclusive benefits.
Check Out Our Work!
Just another day at The AIR Company of Georgia
This is the HVAC company that ATL has needed for years. Responsive. Professional. Honest. The Air Company will totally shoot straight--not overcharge you when your AC breaks in the middle of the summer and you're desperate. Don't even consider using any other company for your heating or AC needs.
S Sugarman
Homeowner
I can't say enough good things about my experience with The Air Company of Georgia. It is HOT and one of our systems started to slow down. They arrived ON TIME and they did a thorough job with not only that system, but they serviced our other three systems. I highly recommend them for all of your HVAC needs. Super friendly and very efficient for a great value.
T Roberts
Homeowner
The team at The Air Company provided us with a new HVAC system at a competitive price, with quality equipment and the work was completed in just one day. They are a highly professional and customer-focused organization, and we recommend them without reservation.
S Sadler
Homeowner
Super great company. Very affordable, responsive, thorough, and fantastic to work with- highly recommend. We love our 3 units and really looking forward to staying cool this hot summer.
T Ryman
Homeowner
Turned on my air conditioner and found I had no cool air coming out. The Air Company of GA came out fast and got me working again. Technician was fantastic. Would recommend to my friends and family.

G Johnson
Homeowner
We had a great experience with Air Co. They were extremely professional and knowledgeable, and worked hard to find us the best deal for our situation. We are very happy to be cool again!!

R McLaughlin
Homeowner
Schedule An Appointment Now!
Reliable | Trustworthy | Hard Working
Call us today for your Air Conditioning or Heating Repair & Maintenance needs. We keep Atlanta cool!

*Weekends and after hours for an additional charge